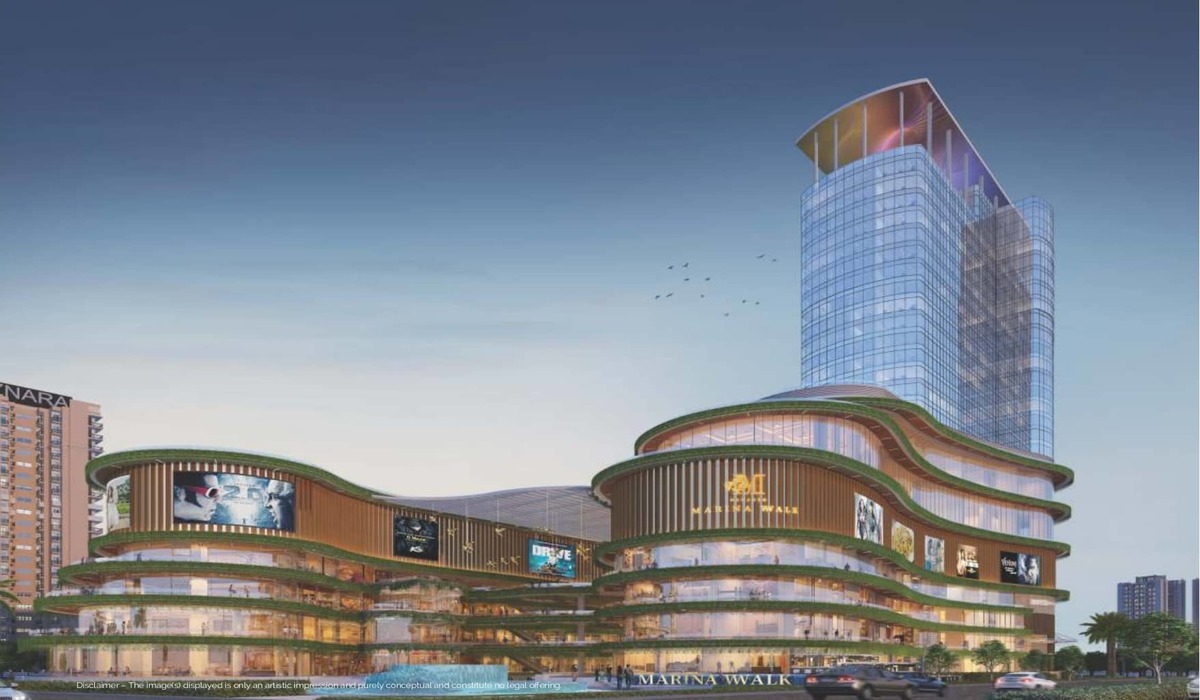 Mahagun Marina Wwalk is a commercial project with lifestyle shops, amazing avenues and great place for shopping. The project developer Mahagun has given much of the impetus on creating best of the commercial project for the buyers and investors. The project offers stunning view to theme gardens. It has exclusive landscape gardens. The project development connects Noida City center with 130 meter wide 6 lane road. It has approximately 300 premium retail outlets. There are cafes and lounges that adds with open air seating. The project adds with dedicated drop offs for malls, hotels, banquet guests and offices. Gaur The Islands location / Gaur Mulberry mansions location / Gaur city 1st avenue location
Mahagun Marina Wwalk has beautiful and brilliant architecture that makes it look different from any other projects. The project puts emphasis on creating the right mixture of city vibes that also gives great place to enjoy better lifestyle. It is made keeping in mind the consumers preference and comes as structure that has define space for every business. The project has largest superplex by PVR and comes with total of 14 screens. It adds with larger-than-life family entertainment centre along with kids play zone. It comes as a large hypermarket that fulfils everyone's needs. There is underground car parking space that accommodates 1500 cars. It has huge number of restaurants that serves delicious food and are crowd puller. It adds with massive food court that lets you atste bud enjoy best of the food.
Mahagun Marina Wwalk has multi-level international fashion and anchor stores. It adds with state-of-the-art health club, infinity swimming pool and spa. The project adds with apparel stores, entertainment which is available within the time. It offers café, lounges that has open air seating with dedicate drop off's. The project has malls, hotels, offices and banquet halls that fulfils the needs of the patrons. It offers fusion of high street, mall shops along with retail GLA which is approximately 6,00,000 sq ft. The project has state of the art infrastructure and has retail spaces, anchor store, hyper market and food court. It has restaurant cum bar, entertainment zone, office spaces and multi-level car parking that fulfils needs of buyers.
Mahagun Marina Wwalk comes with beautiful design structure and has strategic mix on offer with anchor and vanilla stores that are new concept into retail management. The project is certainly venture that makes it one of the best development into retail environment. It creates business module for every investor and lets you enjoy best of the business pace for buyers. The project has enough space for walkers and makes it easy to do window shopping. The project offers dedicated space for amusement rides, bowling zone, video game arcades, ice hockey arena. The project is crowd puller.
Mahagaun Marina Wwalk has better security measures at place. It has 3 tier security and has CCTV at all places where it is necessary. It is manned 24/7 by guards and the development has best of the housekeeping team. It fulfils the wish of the people to enjoy within safe and secure premises that makes it great place to shop, dine and get entertain.