Commercial and Retail operations that help the business person like never before. The mall is located at a prime location of Gaur Chowk at Greater Noida West or Noida Extension. Gaur World SmartStreet Mall and is surrounded by several group housing projects which will give a sure footfall in large numbers. The adjoining area has several group housing projects that give a clientele in huge numbers and it will turn into a sure success for Gaur World SmartStreet Mall. Near By More Commercial Project: Gaur City Center Studio Apartment | ATS Near By Commercial project: ATS Kabana High Price List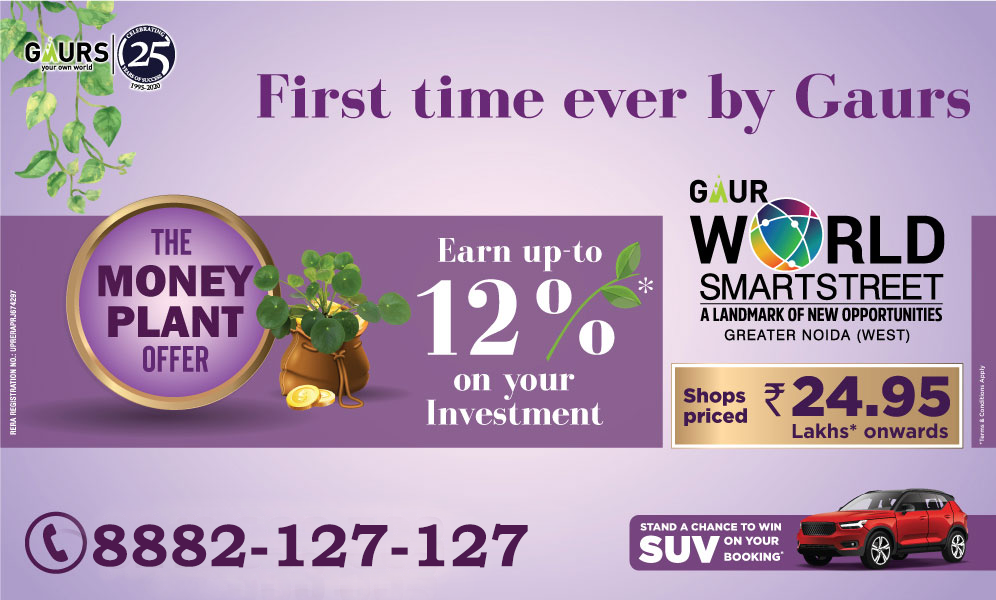 Gaur World SmartStreet Mall is spread in an area of 4.9 acres and it has specialized zones with restaurants, retails, food court, multiplexes, halls, offices, studio apartments, etc. Gaur World SmartStreet Mall offers best of the Return on investment that leads to strong returns and well-managed long-term capital appreciation. Gaur World SmartStreet Mall is RERA registered and has a great layout plan that suffices well and is very relevant to the business industry. Gaur World SmartStreet offers 3 sides open retail corner plots and offers mixed-use luxury high street development and is very near to proposed metro connectivity.
Gaur World SmartStreet mall has multiple passenger elevators with retail, food outlets, and offices in large numbers. Gaur World SmartStreet mall is also known to be a high-end commercial project in Sector 16, Noida Extension, and the commercial spaces with the lowest possible rates as compared to any other market in the specified area of Delhi-NCR. It provides accessibility that is akin to international market services. It also offers lots of investment options giving a wide choice for a large number of people who work as potential investors. Gaur World SmartStreet mall has two basements, the lower ground floor to the fourth floor and the fifth floor to the seventh floor.
Gaur World SmartStreet mall is also right on a 130-meter wide road project and is an 11 km drive from the Noida City center. It is also a 2.5 km drive from the Gaur Chowk and offers opportunities for investment by electronic store, multi-brand store, beauty store, mobile store, grocery store, jewelry shop, retro and lounge bars along with shoe stores of different brands. It offers multiple entries and exit points with provision for ATM Kiosks. It has space for 2500+ Car parking which is spread across 2 levels. Also, there are 2000+ premium retail shops that are of various categories.
Gaur World SmartStreet mall has better options for the food courts, retail shops, kiosks, multiplex, and car parking in the best of the order. It makes the entire mall a comprehensive unit and gives the best of the options for the brands and businesses that lead them towards good business bargains and higher profit in return. The brands and organizations these days discover places where they can get the best of the returns within good investment options. It is known to be an enormous emporium that comes up with the best of the smart street and leads to success for every business that matters for its investors and businessman.