Paras ONE33 is a commercial project that adds with significant development making it one of the best commercial property. It adds with better specifications, lifestyle and amenities that is fulfilling in nature. The project puts best of the business unit with fulfilling the commercial needs of the buyers and investors. It comes with creating opportunity to add with local retail business and with renowned high street brand. It adds as retail stores with brand name of Paras One33 and makes it one of the retail destination on Noida Expressway and signifies with name as Paras One33.  It makes with best of the retail business destination and comes with good number of footfalls.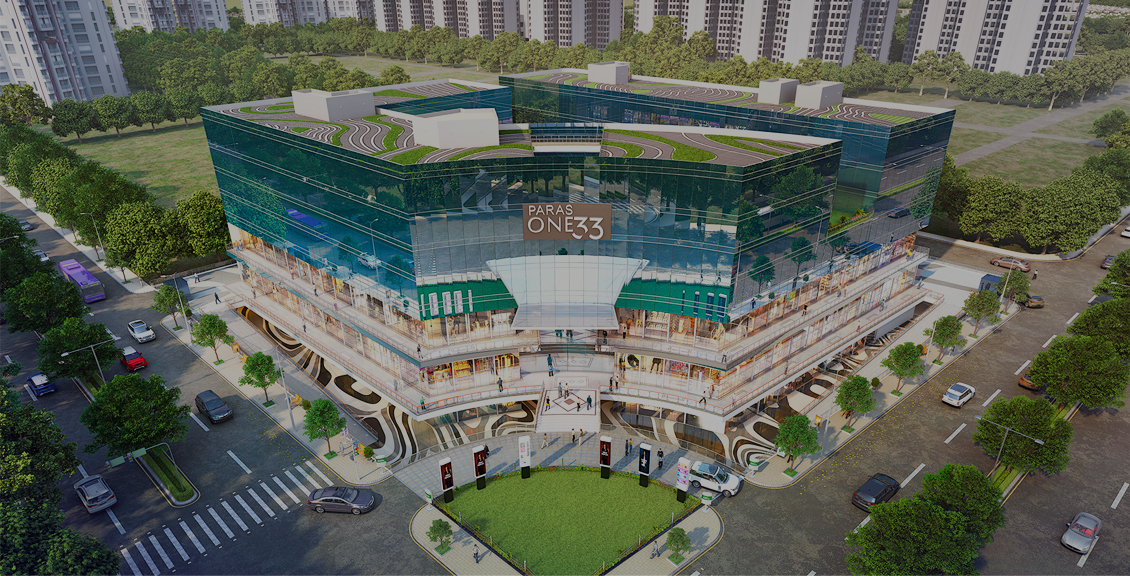 Paras One33 Shops is develop as commercial project on 3 side open plot. It is with location at high street and with 5 storey infrastructure. It is with one of the best location advantage. It connects well with Noida Expressway and towards Greater Noida, FNG Expressway and Yamuna Expressway. It is within proximity to Night Safari park, International cricket stadium, Jaypee Sports City. It has retail shops which is set across lower ground, ground floor and first floor. The project has service apartments with fully furnish service apartments that is from second floor to fifth floor. It has premium hotel within proximity with 100 Signature rooms. The project adds with better food court that serves with sumptuous food.  Other Commercial Projects Paras Avenue Noida.
Paras One33 offers premium retail outlets with area of 250 sq ft to 1400 sq ft. It has lower ground floor and first floor with size of 385 sq ft, 585 sq ft. The project has area of 495 sq ft, 570 sq ft, 695 sq ft, 650 sq ft. It has service apartments from 2nd to 5th floor. It has total of 125 units with lower ground floor, 95 units on the ground floor and with first floor that has total of 90 units. The project makes it one of the best destination for retail investments. It helps to enjoy good number of footfalls that gives enough opportunity for buyers and investors. The development lets you feel with more of vibrant business atmosphere.
Paras One33 comes as well-planned project that comes with an area of 2 acres. It adds with total of 489 units that is well ventilated and it adds with convenient lifestyle. It adds as best of the contemporary business destination and fulfils the business with its needs and expectations. The project has best of the location advantage. It is Akshardham temple with 20 minutes, Greater Noida within 10 minutes. It has Connaught Place with location of 35 minutes, Mahamaya Flyover with 5 minutes. It has DND Toll Plaza which is easy to reach and is at distance of 15 minutes. It is within easy connectivity towards Sector 18, Noida. The project has certain advantage with mix land use developments. It has un-match retail destination that adds with residences, MNC's and colleges and makes it a project with vibrant crowd. It offers good business projection and with high rental opportunity with F1 track within few hours from it. Other builder project  Gulshan Dynasty Sample Flat.