Nirala Aspire Project is a residential township where you can bask your senses in a World of Luxuries. We have forgotten the importance of private moments in this time period of jet set lifestyles, and they are far away from the madding crowds of this undisputed luxury. Nothing can be more private than the joy of a personal haven, with the warmth of comforting sumptuousness? Nirala Aspire serves as a prelude to the luxuries that await you there and it is also a place where you get to enjoy the regal majesty and there are no worries except, what to aspire next from life.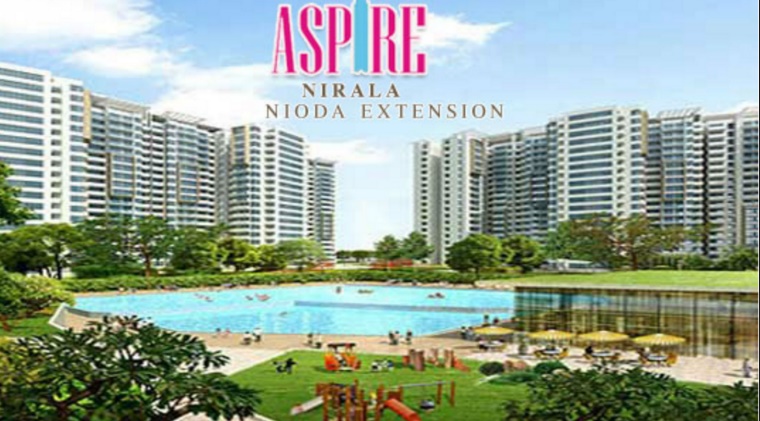 Nirala Greenshire flats offers your 2/3 BHK residential flats at affordable price which is located in sector-2 greater noida west. It provides you all the favourable amenities.
Here, you can get 2/3/4 BHK luxurious and fully furnished apartments in sector 16, Noida Extension in sizes ranging from 910 – 2250 sq. ft. with 6 diverse floor plans.
The location of Noida Extension nestles your abode of affordable as well as refined, luxury, Nirala Aspire. Noida Extension is a city which you will find to enjoy close proximity to Delhi, Noida and other parts of NCR, it is one of the best cities to live and work in. the availability of vast number of MNC's, proper connectivity to the Capital City, non-congested and unpolluted, environment, lavish residential options and reputed after-work relaxation places make Noida Extension as one of the most sought after destination in NCR. 15 minute from Amity University, 20 minute from DND flyover, 15 minute from Atta Market, 8 minute from Metro Station and 5 minute from Sai Dham, this township is able to give you best of the connectivity.
For facilities you can enjoy a luxurious club house, Billiards table, swimming pool, basket ball court, badminton court, table tennis, lawn tennis court, Wi-Fi connectivity, cafeteria, crèche/day care arrangement and beautifully theme based landscaped park/gardens with jogging tracks and water fountains into your life style. The services like super markets for daily needs, ample of car parking space, 24*7 soft water supply and power backup, laundry, doctors on call, specially designed entrance facilities from lobby to lift for the physically challenged and senior citizens  and 2 high speed elevators in every block including one service lift gives peace and harmony to your mind and soul.
The real estate developers of Nirala Group have been in building construction line for the last 10 yrs. It is a group which is managed by professionals who are engaged in construction & finance activity. It is an ISO 9001-2008 company meaning that it has a certificate that certifies the standards followed in building. The builders stand for a symbol of sincere effort, to create real estate zones of peace, prestige and prosperity. They have managed to s successfully deliver their projects and they also hopes to consolidate its position by making a greater difference and creating beautiful lifestyles. The Group has a customer focused core. The Group believes in promises kept. It also abides by a strict code of business conduct. It underlines an eco-conscious stance, able corporate governance, responsible corporate behaviour and social responsiveness. On unflinching commitment, schedule performance and a customer first attitude are some of the other traits, which identify the Group.