Bhutani Cyberthum is a commercial project with elegance, lifestyle amenities, and location advantages. The project by Bhutani Group surpasses any development in this region with its hi-tech enable development. The commercial project is with premium offices and retail spaces where the investment lets you define your future business space. The project adds worth with assured returns and higher returns on investment. The commercial project is North India's tallest tower and has 50 levels with it. North India's largest musical fountain is here. It is with exclusive development that adds a mall in the sky. It is one of the first development with a helipad. There are ample parking facilities that allow accommodating a good number of cars.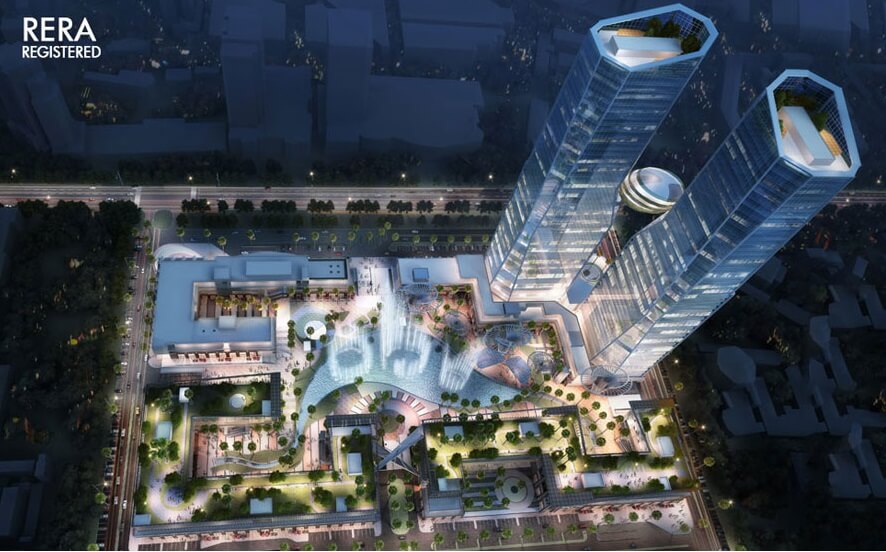 Bhutani Cyberthum Price List is a project with a LEED-certified platinum building. It adds office towers that are designed as vertical campuses. The project offers district zones for district work modes. It offers amenities that add state-of-the-art infrastructure. The project adds with district cooling system. It has a utility tunnel, water management, automated waste collection system. The project ensures 99.99% of power reliability. It adds the fire station and emergency response center. The project has multi-level car parking. The biggest advantage of the project is connectivity that has metro services and superior expressways to connect. It has world-class roads such as Noida-Greater Noida Expressway to reach with ease.
The project is with a location at Sector 140A, Noida. The development makes it an easy way to enjoy close connectivity to Jewar airport. Bhutani Cyberthum connects well with Yamuna Expressway, FNG Expressway, and Eastern Peripheral Expressway. The project offers an advantage with business suites, a co-working center, and premium offices. It adds terrace gardens, conference rooms, a jogging track, a sky mall, and lifestyle facilities. The project offers 6.25 acres of man-made fountains that are inspired by Dubai mall. The project has a super built-up area with a basement of 4,18, 376,877 sq meters. It has a tower height of 213.7 meters. The project is with Noida's tallest commercial tower in the NCR region. It offers building heights with ground + 50 floors with towers A and B. It offers floor-to-floor height with offices of 4.5 meters each, and a commercial tower of 6.9 m each.
Bhutani Cyberthum is with covered car parking, a shopping mall, 24 hours security. It has a cafeteria, fire alarm system, and gym. The project is with premium office and retail spaces on offer. It adds with 18% assured return. There is also a lease guarantee on possession. The development adds zero maintenance cost and has one of the first iconic twin-tower designs in this region. The project has available sizes with an area of 100 to 450 sq ft. The project is a landmark in itself. It adds India's largest entertainment and gaming zones. Sikka Kaamya Greens Price List, Exotica Dreamville, CRC Joyous
Bhutani Cyberthum has a location advantage. It is right on the fastest developing zone at Noida Expressway. It is close to the metro station in Sector 137. The project is close to numerous IT parks. The development is ideal for business and investment purposes.