Fusion The Rivulet is a residential project with a location at Sector 12, Greater Noida West. The residential project has with huge number of amenities, and well-developed infrastructure and portrays a better lifestyle. The residential project connects with all needs. It adds to the rapidly growing construction Group Fusion Homes. The residential project connects with all the needs and creates beautiful green landscape homes at great prices. The lifestyle homes with all the better specifications and well-developed amenities make it a great place to live. It is with creating a better lifestyle and adds with creating your own space. The promising homes give you the best of the elegant developments and have 3 BHK and 4 BHK premium apartments on offer. Anthurium Noida Master Plan, Max Estates 128 Master Plan, Saya South X Master Plan, Godrej Tropical Isle Master Plan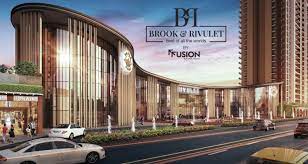 Fusion The Rivulet is with 3 BHK + 2T + 4 Balconies that have a super area of 1350 sq ft. It has 3 BHK + 3T + 4 B with an area of 1545 sq ft. The 4 BHK + 3T + 4B is with an area of 2010 sq ft. The residential project connects exceptional lifestyle homes that are with promising developments. It is with contemporary urban lifestyle homes at great prices. The residential project is with well-designed homes that have come up with Fusion the Brook and Fusion The Rivulet. It is with best of the creative lifestyle and represents better homes with exclusive amenities. The residential development adds to much sought-after residential and commercial projects.
Fusion The Rivulet is with best of the concept and design by Hafeez Contractor. It is with other development consultants and advisors who look after Integral Designs, Godrej and Boyce, Four Dimensions architects, and more. The residential project gives better technology with Mivan shuttering. It adds fully paid-up land which comes with no dues certificate. The project connects with magnificent three-side open corner plots at Sector 12. It connects with a 24-meter service road that also faces a 130-meter wide road which offers added security. The project has a luxurious clubhouse with 15,000 sq ft which excludes a swimming pool, and terrace area. The project offers a huge number of unmatched interactive attractions.
Fusion The Rivulet is with residential amenities such as a gym, security guard, mini theatre, and outdoor activity arena. The residential project is with indoor games, a swimming pool, clubhouse, and a garden area. The project is well designed with superior living that lets you maximize your lifestyle. The project is in 7.5 acres of land and the location has its advantage. It connects with densely populated area that serves all the needs and well-developed infrastructure. It has pristine surroundings and connects with creative, beautiful developments that make it concept homes. The residential project gives you immediate connectivity that is with all the needs, necessities, and measures that are with efficient utilization of resources.
Fusion The Rivulet is connected to all needs as a natural tree landscape and rainwater harvesting system for the gardens. The project is with aesthetically built developments that maximize your lifestyle needs and add to peace, prosperity and well-being.